Coconut Fiber, or coir, is a natural fiber derived from the husk of coconuts and is used in products such as floor mats, rugs, brushes, and mattresses. Coconut Fiber is the fibrous material that sits between the firm inner and outer layers of the coconut. Other uses for brown coir from ripe coconuts include upholstery filler, burlap, and gardening. White coir, extracted from unripe coconuts, is used to make finer brushes, twine, rope and fishing nets.
Do not confuse coconut fiber with pith or coconut peat, which is a powdered and spongy material that results from processing coir. Chemically similar to coconut fiber, but contains shorter fibers. The name coconut peat can refer to coconut or pith or a mixture as both have good water retention and can be used as an alternative to peat.
Agrio Coco is leading coconut fiber supplier from Indonesia. Strive our best to commit and integrate all process of our product to have highest quality standard. Together with our logistics partners and close cooperation with the goverment, we can assist our customer importing requirement or custom clearance and relevant documents. We export coconut fiber to various country with great appreciation from the customers.
COCONUT FIBER
-Fiber length : 7cm-25cm Short Fiber <15%
-Condition : Dried and Clean
-Color : Bright Yellow
-Moisture : 15%-18%
-Dust : Max 3%
-Packaging : 1 Bale 100kg-125kg
-Volume : 90x80x40cm
SHIPMENT CAPACITY
20 Container Capacity
-Available to load up to 9 MT
40 High Cube Container Capacity
-Available to load up to 18 MT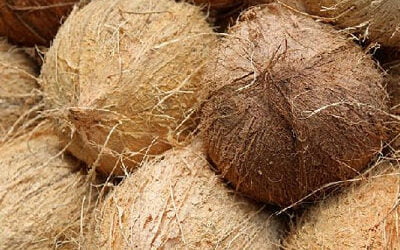 Full husked coconut matured coconuts the husk is removed completely. Semi husked coconut the husk is left intact over the "eyes" of the coconut.