While traditional coconuts take approximately a 12 months to mature, the Sweet Young Coconuts are geared up at approximately 6 months. Without the husk of the older, traditional coconut, it's miles simpler to revel in the extraordinarily nutritious, tasty white flesh and flexible liquid of this Southern Asia treat.
Agrio Coco is leading young fresh coconut supplier from Indonesia. Strive our best to commit and integrate all process of our product to have highest quality standard. We export young fresh coconut to various country with great appreciation from the customers.
Young Coconut
Fresh Young Coconut
Type : Young Coconut
Color : Light green
Grade : Premium
Packing : wrapped in hygienic plastic then put in a cardboard box ( according to customer request )
Supply Ability : 100.000 item / month
Shipment : By refeer container or airplane
The liquid of the Sweet Young Coconut may be mixed with the flesh to make refreshingly candy coconut milk for tropical drinks, puddings, sauces, stews, and soups. Or virtually upload the coconut meat to fruit salads, dessert recipes, and curries. The Young coconut is harvested without delay from the tree earlier than it has time to age and drop just like the extra mature white and brown husked coconuts. Inside is a clean juice and a smooth jelly-like meat. This white coconut meat gives a candy taste this is smooth sufficient to be eaten with a spoon.
Young coconuts offer a supply of calcium, carbohydrates, a hint of iron and nutritional fiber. The water on this coconut may be very excessive in electrolytes. One common coconut consists of approximately a hundred and forty calories. Saturated fats is found in coconut meat, a rarity for end result and vegetables. Young coconuts are particularly perfect for making desserts. They may be used to taste a whole lot of baked items, ice cream, pies, sorbets and beverages. Flavor frosting for desserts and cookies. Make a colourful candy topping for baked items and confections. The clean coconut water may be barely frozen wherein the juice will flip to ice and may be eaten like a sorbet. Blend coconut water and flesh to make a smoothie or a base for soups. For taste variation, upload avocado, dates, figs, carob powder or maple syrup. To store, constantly refrigerate.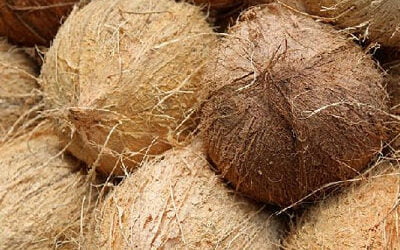 Full husked coconut matured coconuts the husk is removed completely. Semi husked coconut the husk is left intact over the "eyes" of the coconut.